Episode 169: Jordan Gets Spicy
The boys share their Summer Showdown predictions and Jordan's are spicy!
6 months ago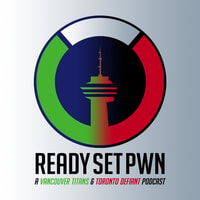 The Summer Showdonw is days away. The Toronto Defiant and Vancouver Titans are both in. And in a Ready Set Pwn first, the show will be back after every day of the event to recap the all the news of the day. Yet before all that happens, Chris, Omni & Jordan recap the weekend that was and give their predictions for the regional tournaments... and lets just say Jordan brings the spice with his!
A huge shout-out to Burn7 on Soundcloud for the awesome track, Heroes Never Die Music used under a Creative Commons licence.
This podcast is powered by Pinecast. Try Pinecast for free, forever, no credit card required. If you decide to upgrade, use coupon code r-d07915 for 40% off for 4 months, and support Ready Set Pwn.