Episode 85: Summer Surprise
The Defiant are already looking ahead the playoffs, the Titans actually got a resounding win, and Omni bought a new car.
2 years ago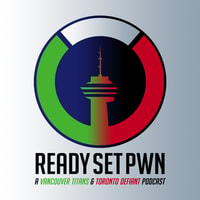 Chris and co-host Sam recap the past weekend for the Toronto Defiant & Vancouver Titans, one where the Defiant didn't care much about the match and the Titans got a win against the "gatekeeper" to the top tier of the league. The two also look ahead to the last weekend of the 2020 Overwatch League regular season and share news on the future of the podcast.
A huge shout-out to Burn7 on Soundcloud for the awesome track, Heroes Never Die Music used under a Creative Commons licence.
This podcast is powered by Pinecast. Try Pinecast for free, forever, no credit card required. If you decide to upgrade, use coupon code r-d07915 for 40% off for 4 months, and support Ready Set Pwn.