Episode 23: Bombs, Bleeps & Basketball
While Chris is away, Sam, Omni & guest Michael Ji do their best to drop as many basketball references as possible.
3 years ago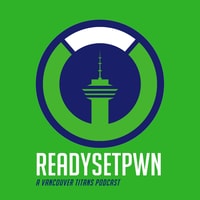 Episode Notes
Hosted by Sam (@anothersamchan), the twenty-third episode of the Ready Set Pwn podcast has finally hit the internet.
Outline
With Chris away on an Alaskan cruise, co-hosts co-hosts Sam (@anothersamchan) & Omni (@OmniStrife) are joined by Michael Ji (@sungwoojim) to talk about the Vancouver Titans. First they discuss the Battle of Canada, then move on to the Titans record-setting undefeated match streak, the win over Seoul (again) and the Stage 2 playoffs. Plus they talk about basketball. BASKETBALL!
A huge shout-out to Burn7 on Soundcloud for the awesome track, Heroes Never Die Music used under a Creative Commons licence.
This podcast is powered by Pinecast. Try Pinecast for free, forever, no credit card required. If you decide to upgrade, use coupon code r-d07915 for 40% off for 4 months, and support Ready Set Pwn.