Episode 149: Scientifically Powered
The season is only weeks away, which means it's time to break out the SCIENCE!
11 months ago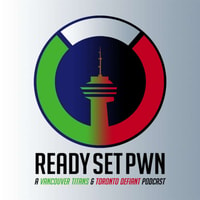 It's time for the 2022 Ready Set Pwn Overwatch League Power Rankings episode, and because you can't rush the power of Science, it's our longest one ever! Where do the Toronto Defiant & Vancouver Titans place? What wild hot takes do Chris, Omni & Jordan have that will shake r/cow to its core?! And what are these eyemojis they've been dropping mean?! Everything will be answered in this packed episode!
A huge shout-out to Burn7 on Soundcloud for the awesome track, Heroes Never Die Music used under a Creative Commons licence.
This podcast is powered by Pinecast. Try Pinecast for free, forever, no credit card required. If you decide to upgrade, use coupon code r-d07915 for 40% off for 4 months, and support Ready Set Pwn.