Episode 171: Remixer
Samson joins the RSP crew to talk about his Summer Showdown experience & share a few thoughts.
6 months ago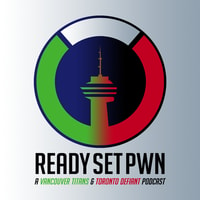 After getting home from the Summer Showdown in Toronto, TitansCord mod and Titans Superfan Samson sits down with Chris, Omni & Jordan to tell us how the event was for someone with boots on the ground. The four also discuss the upcoming Countdown Cup, if they think the Titans have a realistic path to the playins and whether the Defiant can lock in on the playoffs. And with all the news about Overwatch 2 hitting the scene hours after the last episode, they all have a few thoughts on what they understand to be available come October 4.
A huge shout-out to Burn7 on Soundcloud for the awesome track, Heroes Never Die Music used under a Creative Commons licence.
This podcast is powered by Pinecast. Try Pinecast for free, forever, no credit card required. If you decide to upgrade, use coupon code r-d07915 for 40% off for 4 months, and support Ready Set Pwn.